1
Instant HEALTHY & SAFETY camping food list
(Last Updated On: February 10, 2017)
---
In order to prepare for an excellent camping trip, a camping menu idea is considered an indispensable factor, especially for the novice campers. There are many suggested best camping recipes from various sources with different plans for your choice. However,  the term of good food may vary according to personal taste. In this article, we give you a camping food list that includes HEALTHY, SAFE, and easy camping recipes . The list is also SUPER SIMPLE so you are able to spend more time and energy with your family, instead of cooking most of the time.
02 THINGS MUST KNOW ABOUT CAMPING FOOD LIST
Basically, a camping food list is the tool of the camping-meal planning, which summarizes all of the necessary food in preparing for your camping trip. But it is not that simple to have a healthy and safe camping food list by just adding up all the food you think of. "Every woman who aims to have a great camping food list need to spend much of time for researching and planning" – said Katherine (CEO of Minimalist Meal).
GOOD CAMPING FOODS
Firstly, you should be aware of what the good camping food before picking up them for your meal. The good food for camping should be fresh, nutritious, non-perishable, sturdy and super simple to be carried out and cooked easily. You do not want your food be spoiled or waste too much money on complicated but perishable recipes, don't you?
The food, in general, and the camping food, in special, can be divided into several types based on their nature, the usage time and the cooking methods. Some typical kinds of camping food comprise of beverages and drinks, ready-to-eat (dry and fresh food), fridge food, cold served food, roasting food, cooked food, condiments, and spices.
When we plan for a camping trip, most of us may think of the indulged time for weekends or for few days. Even the shortest picnic usually lasts for the whole day. That means the good camping planner will have to prepare the meal for breakfast, lunch, dinner and also snacks.
The typical camping food used for breakfast may comprise of sausages, eggs, bacon, milk, pancake, bananas, oranges, and cookies.
For lunch or dinner (main meals), you can use bread, salami roasted turkey, ham, canned tuna fish, cheese, butter and some kinds of fruits to eat. The menu for the dinner can vary, from steak, chicken, ground beef, spaghetti, rice, to potatoes, black beans, tomatoes, lettuce and red pepper.
Chocolate bars, pretzel nuggets, and chips are popular options for your snacks.
The remaining necessary element for a great camping meal is the drinks.
There are several types for your choice, such as adult beverages, energy drinks, bottled water, sports drinks, sodas, and juices.
In order to have a healthy and food camping list, you cannot bring your cooked meals and some dry food. In the case of more than 2-day trip, such cooked meals will be pale, spoiled and unable to eat. Only dry food may not provide sufficient nutrients for your family. For this reason, you have to prepare yourself to do cooking on your camping trip. Hence, there are some camping cooking equipment and tools you should add to your list in case you want to open fire cooking:
Camping cook set: stove, fuel, frying pan, coffee pot.
Constructive eating set: dishes, bowls, eating utensils
Food storage, cooler, zip lock bags.
If you are first time backpackers, you can read this backpacking gear list.
HOW TO PREPARE A HEALTHY & SAFE CAMPING FOOD
After having a general understanding of the healthy and safe camping food list, you should start making the list for yourself by following some below tips.
MAKE A VERY EASY CAMPING MEAL PLAN
You will be able to create a better camping food list while being determined of your trip regarding the place, the duration, the number of participants and sometimes, the weather also takes effect. If your camping trip will last for more than 1 day, please pay more attention in storage items and especially the types of sturdy food.
You can plan what food to carry and how much of them based on how long your camping trip is. The departure and arrival time are also important for you to arrange the order of the meal. Then, you should make a plan for the breakfast, lunch, dinner, also drinks and snacks for each day.
One more thing to add to your plan is the cooking type in the camp. Whether you need to bring a handheld gas stove or you can utilize a campfire or a barbecue at the destination. For each cooking type, there are different related kitchen tools and equipment. For example, you should not use a pan to cook with the campfire otherwise all of your food will be burned soon. After having sufficient information relating to the cooking type along with the kitchen items, please come back with our camping food list.
Now you should think about the ingredients and each meal which are recommended to match with the conditions at the campsite as well as the cooking utensils and method. You are able to avoid redundancies and utilize all of the ingredients for the camping trip by answering following questions:
What type of heating is required to prepare a healthy meal? Can you make a camping fire cooking? Is it a MUST for a cooking over a fire? If it is, you can search on Google for the keyword "

campfire cooking recipes

", "

campfire food ideas

", "

campfire dinner recipes

", "camp fire

cooking

" and "

easy campfire recipes

".
Do you need vegetarian camping recipes?
Can the ingredients be used for more than one meal?
How long does a dish take for preparation and cooking? (Try to estimate for each dish and a meal to arrange sufficient time)
What type of meal can be cooked in advance (before going to the camp)?
Frankly, creating a menu is not easy at all as you have to combine different dishes into a meal and ensure that such combination will not cause the allergy for people or degenerate their taste. But preparing a healthy camping meal is much more difficult. You not only need to consider of the nutrient provided for each meal but also the nature of the food which should be easy to eat and carry out, simple to cook.
HEALTHY AND SAFE CAMPING MEAL IDEAS
According to the suggestion of some nutrient experts and by synthesizing many food lists from prestige websites, we propose the following healthy and safe camping food list for your reference.
Best Easy Camping Breakfast Ideas
Bread
Eggs
Cereal
Jam
Maple syrup
Yogurt
Orange juice
Cheese
Sausages
Bacon
Fruits (apples, bananas, oranges, strawberries, blueberries, peaches and raspberries)
Easy Camping Lunch Ideas
Bread
Mayonaise
Salami
Roasted turkey
Ham
Butter
Meat slices, tuna fish, pate (for sandwich)
Lettuce
Cheese slices
Tomatoes
Easy Camping Dinner Ideas
Pasta
Pre-processed meals
Rice
Tortillas
Noodles
Salsa
Chicken
Steak
Sauce jars (sour, curry and sweet)
Jars of spices and herbs
Jar of crushed garlic
Best Easy Camping Snack Ideas
Easy Camping Drink Ideas
Bottled water
Milk
Coffee
Wine (Bring a cask of wine is the cheapest and most convenient way)
Beer
Energy drinks
Juices
Sports drinks
Soda
Additives
Salt
Pepper
Onions
Cooking oil
Sugar
Seasoning
Soy sauce
Kitchen Essentials
Water (An adult needs about 3 quarts of water for daily drinking and may be more from the meal)
Folding Table and chair
Fuel and stove (if needed)
Dutch oven and frying pan
Plastic bowls
Coffee pot (for heating water)
Eating utensils – forks, knives, and spoons
Plastic cutting board
Cooking utensils – can opening key, sharp knife, large spoon
Cooler (for keeping frozen foods)
Aluminum foil (for food wrapping)
Bags with lock zips or any camper storage ideas (for food storage).
MAKING THE HEALTHY & EASY CAMPING FOODS SUPER SIMPLE
The most important objective of the camping food should be super simple. As we are not going to a cooking campaign, we should spend more time to relax and hang out with our family and friends instead of sticking with the kitchen. Therefore, you should keep this opinion in your mind when considering your own camping food list.
Based on our suggested healthy camping food list, you can write down each planned meal for the picnic. Do not worry as listing down things will not take lots of your time. After finished the writing, you can try to shorten it by re-thinking of some superseded and useful ingredients along with removing any unnecessary items. You should repeat this step for two or three times until getting the acceptable list. Then, bring this list with you for shopping.
ORGANIZE THE FOOD
It might not a simple task as you have to keep all the food and kitchen utensils together in a logic order. You also should arrange them according to the order of the meal so they will not intricately tangled when you take them out of the box.
At first, you should start with all types of food which need refrigeration. After classifying them, it is very easy to put them in the cooler or fridge. But remember to put ice packs on the food to keep their cool temperature during the camping trip.
The remaining items can be divided into three groups: the non-perishable ingredients, staples and kitchen gears, which should be placed in three different boxes.
With the non-perishable ingredients, a strong plastic box is the best option to contain them. In order to fill all of the ingredients into the box, you should place the largest and heaviest items at the bottom and the lighter one on the top. Please try to fill them up the box. If you cannot, some papers will help to keep that box filled and stable to avoid inside things be disordered. In addition, you should keep the raw foods separately with another type of foods. Never bring poultry products or meat without a cooler to keep them safe.
The second box is used for storing the staples which are some important items but not belong to the first group. Some examples of the staples are olive oil, salt, pepper, spices, coffee, tea, food wraps, sugar, sauce, etc. This box can be smaller than the first one. You should choose the size of the box to completely fit with contained items inside.
All of your kitchen utensils will be kept in the last box. As most of the cooking gears are big and heavy so you need to consider carefully which equipment to carry out with you.   To save your limited space, try to take one gear that can use for more than one dish. A small thing to consider is the available space permits. Sometimes you do not have enough space for these above three boxes due to the car is full of people. Then, you have to re-arrange those stuffs into two boxes instead of.
BEST HEALTHY CAMPING RECIPES
Now let's make great camping meals for a whole long day! In case you want to have some more options, you can go to Google and typing "camping cooking ideas" to get more camping food recipes.
Breakfast: oatmeal, eggs, turkey bacon, milk, bread, and berries.
One of the tip in planning the meals is to keep your breakfast be fuss free and simple. A gourmet camping recipes is not always a good idea, especially when you have to leave the camp this morning. The suggested breakfast here is super simple, easy to cook and of course, healthy for your family.
Directions
Boil eggs in advance, properly before leaving your house, then put them in the cooler. Before eating, you pick the eggs out the box and re-boil for about 2 minutes.
Chop berries and mix with the oatmeal also put the mixture in the cooler. Before eating, you need to pick the mixture out and stew a little bit to remove the ice.
The turkey bacon was already put in your fridge and you only to take them out and cut in thin slices.
Cut the bread and put into a dish. Also, place slices of the turkey bacon, eggs into the dish with a little bit of oatmeal and berries.
Pour milk into cups for each person.
Now you can enjoy a super simple breakfast from your camping food list.
Lunch: Meat slices, tuna fish, ham, lettuce, cheese slices, butter, tomatoes (for sandwich), bagels, orange or apple juices, melon.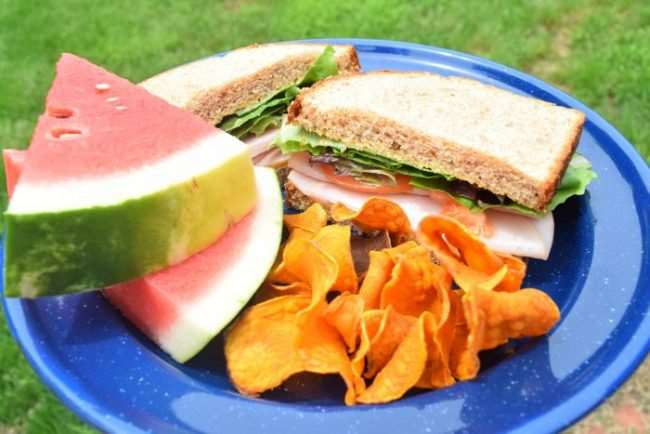 Directions
Cut the ingredients into slices, comprise of meat, ham and tuna fish.
Chop all our vegetables and fruits, the put them in the cooler before leaving.
Wash the tomatoes and also cut into slices.
Bring all the ingredients for sandwiches and put into the bagels on the taste of each person. You can use bagels to replace the bread as they can keep inside things better.
Pour the juices into the cup for each person and enjoy your lunch.
Dinner: Macaroni, cheese, canned stews and chili, grilled cheese, beef soup, beans and rice dish.
Directions
Take all the above ingredients out from the cooler to increase their heat
For canned food, open the can and pour out the macaroni, stews, and chili.
Cook rice for 20 minutes until it's well-done. Then, add chopped onions and tomatoes as well as black beans into the rice pot.
Heat them up and put cilantro, lime juice and salt into. Serve bean mixes on rice with shredded sharp cheese.
Grill sliced cheese for 5 minutes
Cut the beef into small pieces, rinse and put into boiled water. Then, pour the broth in, add favor and coriander before serving.
Dessert: Apple pie and ice cream
Directions
You can prepare the apple pie at home, keep it in the fridge. Now, take it out and warm it up. Then, cut into slices and put in the dish.
There is no need to prepare anything for ice cream. After buying them from the store, you can put them immediately in the cooler and take them out when you want to eat.
We hope this article will provide useful information as well as help you prepare a healthy camping food list for your own. If you find this article is awesome or helpful, please share it to your friends. Thanks a lot!
If you mind about things to take camping, find more information about What to pack for a great family picnic?
Summary
Recipe Name
Published On
Average Rating
Based on 3 Review(s)