17 Best Snacks Take Camping – Healthy & Simple Recipes for Camping
(Last Updated On: May 25, 2017)
---
ABOUT BEST SNACKS TAKE CAMPING
Hello, it's Janet of Family Tent Center. Camping snacks are needed by the campfire or on the trail. You can easily make the best snack on your trip. In our definition, best snacks must be healthy, instant and simple to make. Here are the 17 best snacks take camping.
In this article, you will learn useful recipes to be able to eat tasty and healthy at the campsite. It's a shame to throw all the progress you've made in recent weeks for grabs during the camping holiday.
The lure of the site snack bar and the ice cream man is lurking, but with the recipes blow, you can resist these fine.
In this post, you will get a handy list of ideas and tutorials for healthy and easy camping snacks along with other valuable tips.
1. Banana Boat Recipe
Ingredients:
4 bananas
1/4 cup chocolate or carob seeds
1/2 cup chopped strawberries or peaches
1/3 cup cereal or cracker crumbs
1/2 cup miniature marshmallows
1/4 cup chopped walnuts or pecans
Pinch of cinnamon
Recipe:
Start the campfire,
Slice the banana lengthwise open. Place them on a piece of aluminum foil,
Fill out the banana with the above ingredients,
Wrap the banana in the foil and bake on the grid for 5-6 minutes, depending on the strength of the fire,
Take the banana and leave to cool a little.
2. BBQ Apple Crisp
Ingredients:
½ cup oats
Six tablespoon flour
Three tablespoons brown sugar
¼ cup granulated sugar
¼ tsp cinnamon
Pinch of nutmeg
Two tablespoon butter and little more Tinfoil
3 apples
Dash of lemon juice
Note:
To be able to cook at the campsite, you may need a skottel braai. A skottel braai is a large pan that can be used as a grill, stovetop grill or wok.
For meat, fish as well as vegetables and egg, this pan is ideal. You can use it for breakfast, lunch and evening meals. It offers many opportunities to cook simple healthy. Also, you can fold the pan which he takes up little space.
The aluminum foil from the packing list is ideal to prepare packets of vegetables, sweet potatoes, corn and fish on the BBQ or skottel braai.
3. Campfire Popcorn Bags
Ingredients:
Two tablespoons of popcorn kernels
Two tablespoons vegetable oil
Sugar as desired
Tinfoil
4. Stuffed Apples
Ingredients:
Four large apples
1 lemon
Two tablespoons raisins
Two tablespoons nuts, seeds or kernels of choice
Two teaspoons cinnamon
One teaspoon nutmeg
1 tablespoon coconut oil or butter grass
Recipe:
Remove the cores from the apples with a knife or apple corer. Be sure to snap the apples not open.
Spread the inside of the apples with lemon juice to prevent discoloration.
Put to each apple a large piece of aluminum foil.
Mix in a separate bowl with lemon juice, raisins, nuts, seeds and kernels of choice, cinnamon, nutmeg and a tablespoon of coconut oil.
Put into each hole some of the mixtures and pour over the top of a teaspoon of coconut oil over the hole.
Wrap the apples in foil.
Place the apples with foil or next to the hot coals of the BBQ and cook for 30 minutes to 60 minutes. Depending on the heat of the coals are they fast or more slowly hot and ready to eat? Check them regularly. If they are soft, they are ready to eat. Enjoy it!
5. Healthy Applepie Ball
Ingredients for 15 balls:
1 apple
100g raisins
100 grams of oatmeal
Pinch of salt and cinnamon
50g grated coconut (to roll your balls)
Recipe:
Grate the apple and place in a mixing bowl.
Chop all the raisins finely with a machete until it becomes a sticky emulsion and add to the apple in the bowl.
Add the oatmeal with apples and raisins and knead well until a dough so that you can roll off 15 balls.
Then roll the balls in grated coconut.
6. Carrot Cake Ball
Ingredients for 15 balls:
100 grams of oatmeal
One carrot, grated (about 100 grams)
50 grams of raisins or dried mulberries
60 ml water
One teaspoon vanilla powder (1 vanilla pod)
1 teaspoon cinnamon
A pinch of nutmeg, ginger, and cardamom
50g grated coconut (to roll the balls)
Recipe:
Put the oats, grated carrot and raisins in a bowl. Cut the dates into small pieces and add to the bowl with the other ingredients (except the grated coconut).
Mix well with your hands until all ingredients are well mixed and you have formed a firm dough.
Form 15 small balls of dough and roll them in grated coconut.
7. Hot Melted Cheese Dip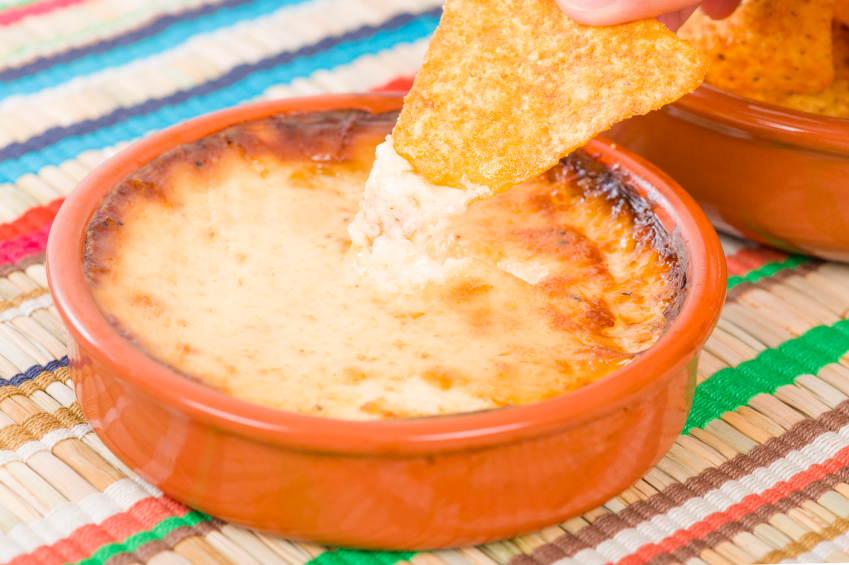 Ingredients:
Two sheets of aluminum foil
One jar of 250 grams Philadelphia Herbs & Garlic Cream Cheese
3/4 cup sauce
Diced tomato
Sliced green onion
Serve with tortilla chips, cereal biscuits or fruit bars
Boat potatoes with ham, cheese, and bacon
8. Roasted Cauliflower with Mustard
Ingredients:
500 g of Brussels sprouts
Two tablespoons whole grain mustard
Two tablespoons olive oil
Salt and pepper to taste
Ingredients for the garlic sauce:
1 – ½ tablespoon unsalted butter
½ tablespoons olive oil
Three cloves garlic, finely chopped
½ cups heavy cream
¼ cup 2 % milk
One pinch salt
1 pinch ground black pepper
One pinch red pepper flakes
¼ cup grated Parmesan cheese
Supplies: ( bamboo) skewers, BBQ or grill pan
Recipe:
Boil the sprouts for 3-4 minutes and rinse afterward with cold water. Mix all the above ingredients and let marinate for 30 minutes. Push 3-4 sprouts on a stick and grill for 3-5 minutes on each side on a hot grill. Scraps may be used for a salad the next day.
9. Crispy Tortilla Chips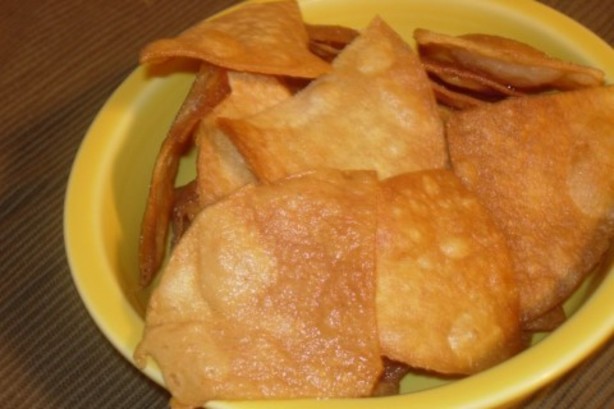 Ingredients:
½ cup garlic cream sauce
¼ cup onion, diced
½ cup pepperoni, cut into small bite-sized pieces
½ cup black olives, sliced
½ whole green pepper, seeds removed, diced
1 cup grated cheese
10. Camping Quesadillas
Quesadillas are warmed, tortillas filled with cheese
Ingredients:
Four medium-sized tortilla
Two chicken breasts (250g), grilled and sliced
One pot cheese sauce
One canned black beans, rinsed and drained
One bag shredded kaizen mix
Aluminum foil
11. Homemade Trail Mix Granola Bars
Not only as camping snack but also to take in the car or on hikes. In a large bowl:
Ingredients:
Dried fruit (raisins, bananas, apples, cherries …) oats, flax seeds, crushed nuts, chocolate flakes, m & ms, pretzels, …
Peanut butter to bind the whole
Little honey
Recipe:
Push everything into a rectangular box that you leave in the fridge (1 hour) or the closet. Persecute you cut the big cake in narrow strips that you packaged separately or directly hands out to the fire.
12. Ants on a Stick
Healthy your tummy around the campsite. Nutritionally celery is packed with vitamins, low in calories and full of fiber.
Ingredients:
Humus + olives on a few celery stalks
Fire Ants on a white stick: cream cheese + sundried tomatoes (also delicious as breakfast)
Almond butter (or peanut butter) + raisins
Guacamole (mashed lawyers) + black beans (or another type)
13. Baked Eggs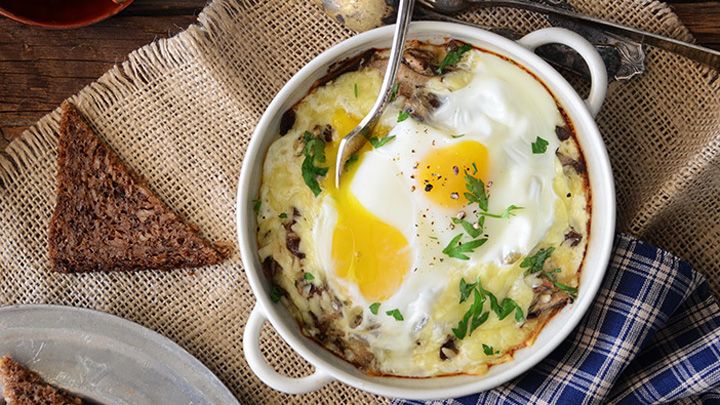 Recipe:
Make a small bowl of a double sheet of aluminum foil with a diameter of about 10 cm.
Spread the bottom of the bowl with some coconut oil and break off afterwards in an egg open.
After a few minutes, you see that the egg white and after about 5 minutes, the egg ready to eat.
Sprinkle with salt and / or oregano over to make it extra tasty.
14. Stuffed Turkish Bread
Ingredients:
100-125 grams minced
1 Turkish bread
1 cup tomato tapenade
1 onion
One clove garlic
half a red pepper
pinch of cumin
1/2 teaspoon paprika
a handful of grated cheese
50 g of iceberg lettuce
Recipe:
Preheat your grill.
Chop the onion and slice the red garlic pepper finely.
If you make meatloaf with an egg, biscuit and some chopped herbs.
Pour a little oil in a pan and fry the onion with the garlic, cumin, paprika and red pepper too. Add about 2 minutes to the mince and fry it.
Meanwhile, you cut horizontally in half Turkish bread, so you have a top and bottom. Grease the bottom of the Turkish bread in a layer of tomato tapenade.
Spread this mixture over the meat, then a small handful of grated cheese.
Put the cover of the Turkish bread on top and then lay the bread for about 5 minutes under the grill until it is golden brown and crispy.
Divide lettuce over the bread and enjoy!
15. Cold Pasta Salad
Ingredients:
150 grams of pasta (e.g., Penne)
100 grams Mackerel (canned or smoked)
half onion
1/4 cucumber
5 tablespoon of mayonnaise (yoginis)
fresh chives
pinch of salt/pepper
possibly rocket
Recipe:
Put a pan of water and cook the pasta according to the method of preparation.
Meanwhile, cut the onion into half rings and cucumber into cubes.
Once the pasta is ready, you can rinse it under cold water and drain.
Mix the pasta with mayo, cucumber, mackerel, a pinch of salt and pepper and fresh chopped chives.
Optionally you can add a handful of arugula in the salad.
Keep the pasta salad in the refrigerator until you're serving.
16. Homemade Sausage Rolls
Ingredients:
Five slices of savory pie dough (thawed)
150g chopped
One shallot (or a small onion)
One clove garlic
1 egg
One tsp paprika
pinch of salt and pepper
Two tablespoons breadcrumbs
Recipe:
Preheat oven to 200 degrees.
Slice the onion and garlic.
Whisk in a bowl the egg.
Mix the meat with the onion, garlic, paprika, salt, pepper and bread crumbs. Also, add the beaten egg but keep a little bit of egg separately into the receptacle.
Knead well. Is chopped anything too 'wet,' you add some extra breadcrumbs.
Knead with your hands five little sausages.
Put a sausage just over the center of the puff pastry.
Fold the top and bottom inward.
Roll the dough further and press all seams closed.
Put the sausage rolls on a baking sheet with parchment paper.
Fry the sausage rolls approximately 25 minutes in the oven.
Serve the sausage rolls for example, with a bowl of curry sauce.
17. Fruit Snack with Dip
Ingredients:
1 cucumber
a pair of roots
1-2 peppers
(homemade) Tzatziki, the recipe can be found here.
possibly other vegetables such as cherry tomatoes
Recipe:
Clean the tzatziki, for example, according to this recipe.
Cut the cucumber, carrots, and peppers into long strips.
Put a few spoonfuls of tzatziki in a couple of small glasses.
Put the vegetables in the sauce and ready!
Tip: You can also, for example stringing some cherry tomatoes on a stick and doing with it in the glass.
CONCLUSION
Enjoy a well-deserved vacation where you can relax wonderfully. Do not be tempted to snack-food or (much) alcohol. Prepare yourself well and do not get carried away by unhealthy habits. Remember not bring your blender on holiday, which is the number one tip I give you. Smoothies are easy to make, deliciously fresh and they are full of good nutrients.
Click here to read a full article about my best healthy camping food list, ideas for lunches and dinners.